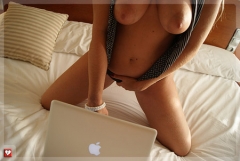 She is Rosa, independent escort and webcamer from Andalusia. She does all kinds of cam shows.
Sensual striptease or more hard things. Her specialties include theme shows and squirting. In her theme shows she invite you to participate in role play situations.
She can be your girl next door above, the girlfriend of the chat or if you prefer your idle secretary, nurse, morbid and even your defended in a process court for breach of, you choose or want to suggest your erotic fantasy to fulfill.
Become a Skype sex guest of rosafuxxxia!