About Skype chat statistic
Here is an article about when is the best time to go online on SkyPeepZ.com.
We have checked all token transfers and created this post for our Skype models.
Perhaps it is a little help for new Skype performers and a confirmation for old models that they are online in a right time. The post includes that what days and hours are better.
We had not checked how many online performers have been online, may the worst hour and day depend the numbers of online performers. But it is a 3 years encompassing statistic, so we do not think that online number is too relevant.
These are the facts, not more and not less.
When will successful camsex
Your best chance to a successful Skype show is the first day of the week. If you are online on Monday, your chance to a paying Skype session is +12%. So, the most people want Skype sex in this time, and if you want to earn more money, you have to log in your SkyPeepZ account and go online on this day. That is better as other days.
Look at the graph and you can see your own eyes.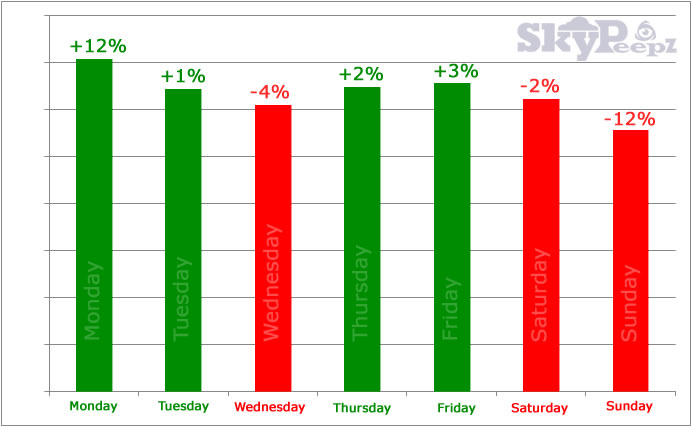 On other days has not significantly diverse. The worst day is the last day of the week. Your chance is worse on Sunday (-12%). Ergo, difference between the first and last day of the week is 24 percent. We recommend you do not miss the occasion. The most member want camsex on Monday.
The best hour to private Skype show
Server is running Central Time Zone UTC-06:00 (USA – Texas – Houston).
As the most performers are from East-Europe, therefore we write in this time too.
Please check out the graph.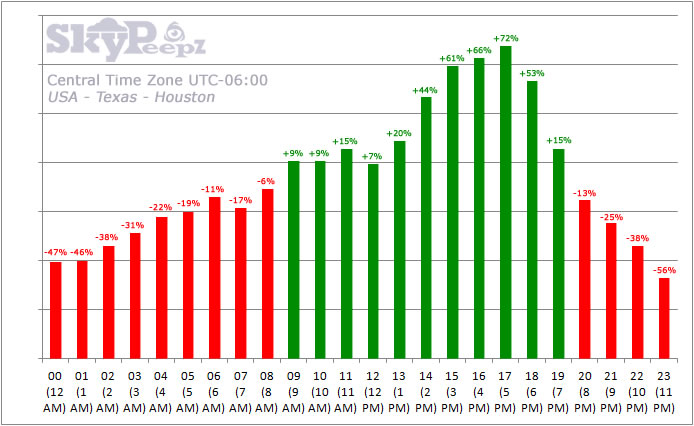 You can see the start is hard, but as we move forward in time our chance going to better and better. There is a breakpoint at 9 O'clock. The momentum holds to 19 O'clock. This is 10 hours. Roughly half of the day. Okay, but what does it mean in different countries?
If you are living in +2 TZ, then you have to add +8 hours to the time (on graph).
(UTC-6 to UTC 0 (+6) and UTC 0 to GMT+2 (+2), so it is overall +8)
But if you do not like maths, and do not want to count, here is in Eastern European Time. East-European Skype cam models can use this:
Sex in Skype, the perfect time point
We can say the best time point to a hot sex in Skype at Monday 17 O'clock.
This is in different time zones:
– London (UK) – Monday, 23:00
– Budapest (HU) – Tuesday 00:00
– Bucharest (RO), Moscow (RU) Tuesday – 01:00
– Sydney (AU) Tuesday – 09:00
An important thing. There is no hours when nobody want to do Skype camsex. So, my suggestion is that you be online most of time. You can never know when want a client a cam sex with you.